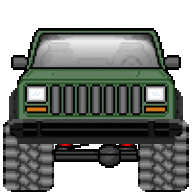 Joined

Mar 28, 2010
Messages

118
Reaction score

0
Location
so i have come to a crossroads in my XJ build.
my heep has been hacked. roof was cut off and re-welded up so it looks like a mini extended cab pickup now. we all know, when you do this the XJ loses alot of structural integrity.
i can buy a complete ready to weld in roll cage kit for about $400 shipped to my front door built out of HREW tube. then buy a couple stick to modify the pre made kit as i see fit, be in for a total of $500 or so including consumables (gas, wire, etc)
kit from
www.swracecars.com
going with the HREW 10 point cage
or i can buy long arms, to replace my stock short arms. i am on stock arms at 4.5" of lift. not exactly an ideal setup. aftermarket short arms will cost me about $300-$600 for short arms, or i can buy the IRO long arms for $600 (or less) but i will need longer shocks and longer brake lines to allow for the extra travel, total investment will be about $800-$1000 or so by the time i am done.
www.ironrockoffroad.com
to see the long arms.
granted, i do plan on doing the brake lines and shocks anyway as they are not a bad idea even with my short arms. so that is about $250-300 i had planned on spending anyway.
either way i go i am gonna be $800 or so in. but which do i do? on one hand i really want the long arms to replace my bent LCA i have now as an upgrade and to make my XJ more capable. but on the other the cage will add some much needed rigidity to my unibody. the end result of a cage however will be me on upside down, cause the only thing that stops me now is fear of the roof crushing in. once that worry is gone, there will not be much i won't try.
so, thoughts and opinions on which to buy?