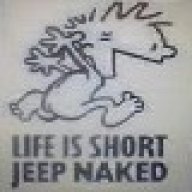 Joined

Mar 25, 2010
Messages

44
Reaction score

0
Location
I thought i would start a thread about my stroker build im gettin ready to start. i know there are threads all over the net and different options in which to build. im goin with the 4.5l stroker.

Mine will consist of the following parts:

Jeep 4.2L 3.895" stroke crank
Jeep 4.2L 5.875" rods
Jeep 4.0L 3.875" standard bore pistons 9.7:1 CR
Comp Cams #68-231-4 206/214 degree camshaft
Stock 0.051" head gasket
0.081" quench height
Ford 24lb/hr injectors with adjustable FPR or MAP adjuster for
260hp @ 4850rpm, 321lbft @ 3500rpm

i will be doin a mild port job on the head and will also be adding a fox body mustang 5.0 throttle body, 2.5" exhaust, and maybe a 01 intake.

i was thinking about boring the block but its not goin to be needed still has cross hatches on cyl walls and no ring wear lip at top of cyl.

So far i have got the crank and rods. as long as things go right i will be orderin the rest of the parts next fri.