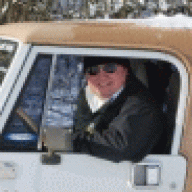 Joined

May 11, 2010
Messages

112
Reaction score

0
Location
I've always wanted a CJ7 or CJ8, and before I bought my YJ I scoured the Auto Trader and newspapers(this was before Craigslist) for months to find the right Jeep. My YJ just found me, and in ten years I've never been disappointed with my purchase...........BUT, I still long for a CJ7.
Maybe I'm dreaming, but I really want a stock CJ7, preferably with a hard top. As long as the stock bits are there, I'll be happy. My Dad owns a body/paint shop, so I can fix up the exterior. I just don't want something that's running 35's, cut fenders, V8, and cheesy aftermarket stuff everywhere.
I've been looking at Craigslist, and it seems original CJ7's are scarce, and those that are available are big money. It's a bit discouraging. I'm hoping to find something for <$3000 that I can fix up. I'm afraid by the time I can truly afford a decent CJ they'll all be gone or hacked to shit. 4 out of 5 on Craigslist are running at least 35's and cut fenders, spring overs, etc.
p:
Must have:
Original sheet metal uncut, no body mods
Full top and doors, preferably hard top
Mostly original interior.. i.e. Original gauges and steering wheel, etc. Aftermarket seats are unavoidable, usually.
Tires 33" or smaller
No more than 2" lift or so
Original engine(regardless of condition) or cleanly installed replacement. No half-assed messy small block Chev transplants. I'd rather rebuild a 258 than fix someone's crappy mods.
Basically, I want something that has no irreversible mods. I want a (mostly) stock CJ that I can restore, not a trail rig.
Of course, it's hard for me to justify this considering my YJ could use a lot of TLC. It really needs a bunch of nickel and dime stuff that drives me crazy, but it's garaged so it's staying pretty nice.
Is this a pipe dream or something that I might be able to find? I've been away from the market for some time now.
Last edited: