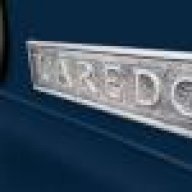 Joined

Jan 15, 2011
Messages

6
Reaction score

0
Location
This is Levi - My '82 Laredo WideTrac. Named for his color, not the "Levi's package"
He's got a 4.2L inline-6, that I'm currently working on Smogging. PITA.
Bought him for $500, about .. 2 years ago. He runs, he drives (just not in 4x4, because of not having a front drive-shaft). He's got a 5-speed transmission too.
The interior is going to be the rough part. I have so far emptied it and kinda cleaned it, only to put junk back into it until I can throw it away. (most is trash, few are parts). I have added Grand Wagoneer seats to it as well, and designed a bumper-guard for him as well. I have a lot designed, but not a whole lot of mechanical skill to produce anything out of it.
These pics are when he was in storage, he sits in our garage, to the dismay of my father & his BMW. lol
This one, is Max, short for Maximus, because he's a Gladiator. He's got a 327 v8. We got him for free about a year ago, off the top of Palomar mountain. He just needs brakes, a rebuilt carburetor, and [we think] a fuel tank + lines. We know the lines are bad, but we don't know about the tank yet. But he runs 'n drives, he just can't stop so good. lol. This truck looks like it's got patina, but it's all various 'on-duty' paintjob's he's had. Forestry Service, Fire Dept, and who knows what else This truck was actually WHITE from the factory, in 1967. He's a J300 long-bed. All the chrome on him is in pretty good condition for what the truck has been through.