| | |
| --- | --- |
| Shaggy | 08-30-2010 02:54 AM |
---
September 2010 JOTM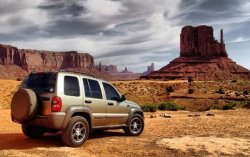 In memory of Aj (AZOutlaws) we decided to give him the JOTM win for September with his 2 great looking pictures of his and his wife's jeeps. Aj was a great jeeper. He always had great information when it came to jeeps and 90% of his post on JM where about the trails he just got back from. He will be missed! Aj died on August 5th 2010 after a fight with leukemia.
---
Nice pics.

RIP AJ. You will be missed.

Dave
All times are GMT -4. The time now is

02:27 AM

.
Powered by vBulletin® Version 3.8.7
Copyright ©2000 - 2019, vBulletin Solutions, Inc.
Search Engine Friendly URLs by vBSEO