Here's a post from my friend Signcutter21 who recently took a position with his job in Lake Charles, LA. For the last two years he lead a day after Thanksgiving run in the Douglas, AZ area. I took the reins this year to keep the AZ LOST JEEPS tradition going in Mike's place. Here is his post and my trip report.....
Originally Posted by Signcutter21
Wow, sounds like an interesting Turkey Day After Run. Broke windows, broke sway bars, a long day? Can't wait to see the pics and trail report from AJ. He's probably still on the phone w/ ins company from yesterday.

glad to see that the after thanksgiving day tradition continues. if you all head out soon, you can still make the Douglas parade. haha.


later,mike
Okay Mike!! We'll head right down to Douglas, let me see if I can round up some of the crew, starting with Roland... he'll go anywhere!!
As usual, another fun trip. We started at 0900 and after burgers in Crown King, and a stop in Rock Springs for some pie, we called the run complete 2115 and we all took off for home.
The Crown King Trail never ceases to amaze me. It changes so drastically from year to year. Vern and I ran it last year and it was like a completely different trail this time. Rock gardens with basketball sized rocks with deep ruts etc in between the rocks. Easily a 3.25 not including some of the optional obtacles.
Speaking of obstacles. Tim making his first run with AZ LOST, was a terror on the trail. He tackled everything the trail had to throw at us and took on all the hard stuff.
Paul, wins the prize for taking the hardest obstacle. He made it just a few feet from the top, but ended up having to take a strap from me. All he needed was a slight tug to get out from behind a large rock and he made it.
Now what can I say about Roland in that shiny red silverdiesl?? The man continues to amaze me. There where quite a few ledges and rock gardenes that I thought he wouldn't be able to get through without dragging bottom and tearing something up. Other than a slightly bent rock rail he made it all the way through AND spoiled my day because I didn't get to strap him over a ledge or something.
I guess I get the dumb a$$ award for the day. I got a little too far to the left of a tight spot and caught a tree limb that shattered my driver's side rear window. I guess that's why they have no deductible glass coverage here in Arizona. Oh, and Mike... I was on the phone last night when we got home at 2230 and made my insurance claim.
Here are a few pics (sorry I don't have any from the rock gardens and ledges, I was too busy trying not to rip something out of my under carriage....
The 'way to CK rock' keeps getting more artistic looking with each passing year...
Here's Paul on his way up...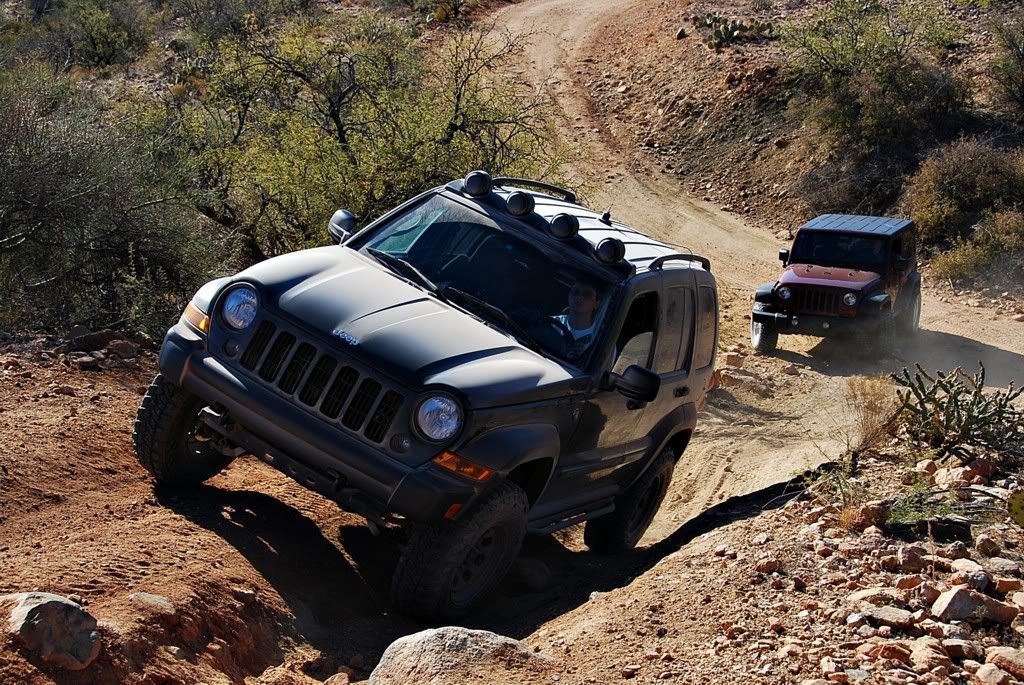 Me following Paul up the hill taking a different line...
Roland leading Paul up another optional hill climb...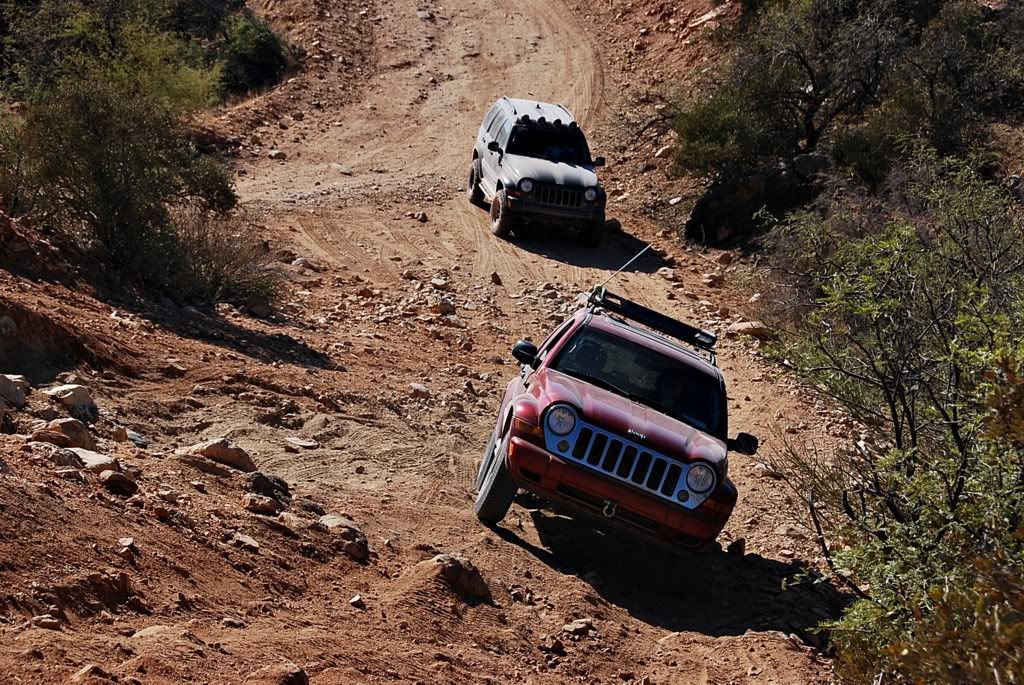 Tim was the only one to try this hill...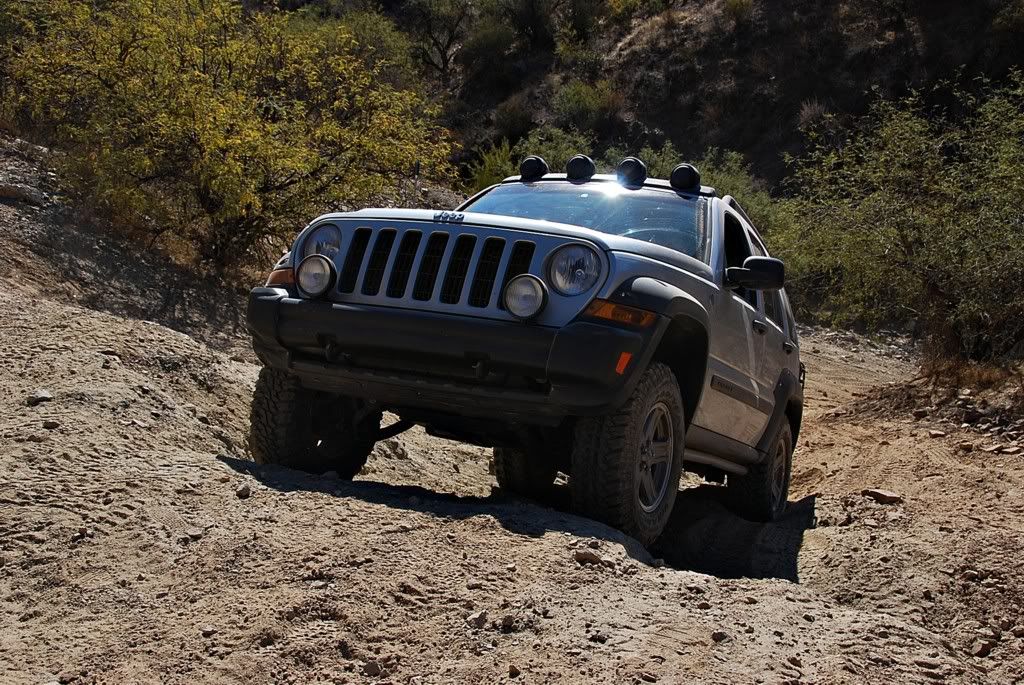 Up and over!!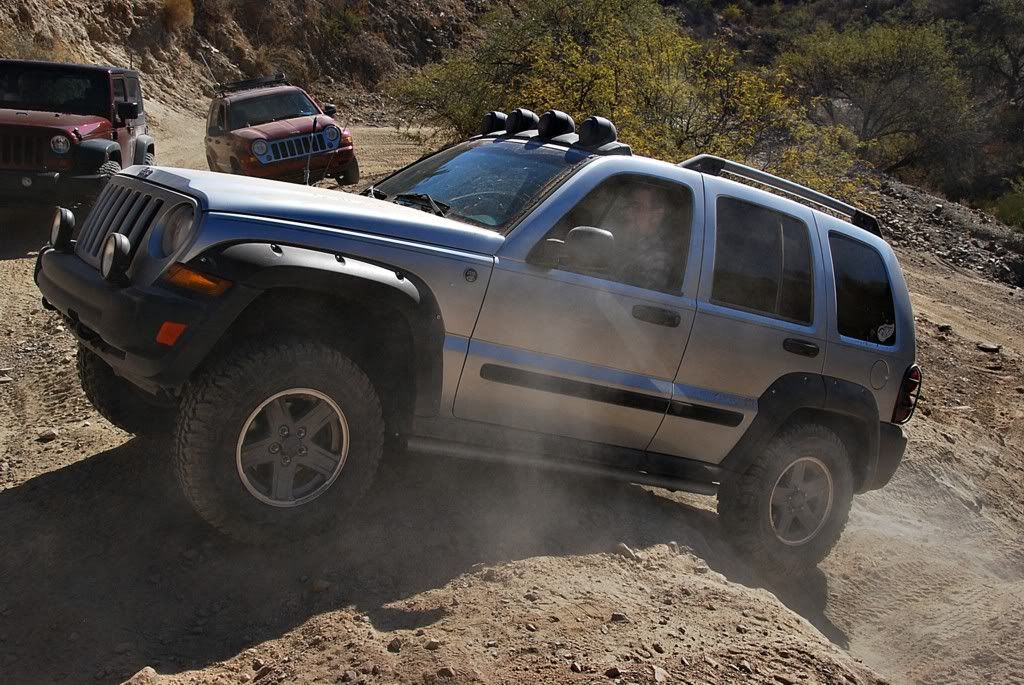 Roland cruising along without a care in the world...
Paul making his assault on this difficult hill, pictures don't do it justice...
Roland and Tim spotting a zig-zag line for Paul through the sharp rocks and ledges...
Roland trying to help get Paul over one last rock...
Thanks to everyone for coming out!! As usual, Beth and I really enjoyed being on the trail with the folks from AZ LOST JEEPS!!!
AJ