The last week of June, Beth and I packed up the JK and headed up to southern Utah to do a weeks worth of trails.
No, we didn't go to Moab this time, I was just up there last October. There is way more to Utah than Moab, so this trip we just wanted to explore. There is more to four wheeling than doing tough trails, rock crawling and mud. We enjoy moderate to slightly difficult trails, but we also enjoy getting out in the back country to see things most people only see in pictures. And to be honest... to get out and explore is the reason we bought our first Wrangler TJ back in 1999.
During the week we were in Utah, we logged 603 miles off road in various National and State Parks that have a vast network of back country trails.
Yes, we violated the fist rule of four wheeling... don't go alone. We were deep in the back country, sometimes 45~50 miles from the nearest paved road. But, to every rule there are exceptions. We filed a flight plan with the people at the motels we stayed at. If we did not return by the next morning they would of notified the authorities. We were also well prepared with plenty of water and food to last a few days if need be. We also had extra gas. We had a tent and other basic camping gear in case we had to RON out on the trail. The most important rule we followed on the trail was... don't get crazy and drive beyond ours or the Jeep's capabilities. We did not put ourselves in a situation just to say we did an obstacle. When we crossed water, I got out and walked across to find out if it was a soft sandy bottom, a rocky bottom and of course the depth to see if we could safely make it across. This was not a hardcore adventure. As I said before... it was an expedition to enjoy the wide open spaces we are so privileged to have here in the Great American Southwest. I feel sorry for all the people who are limited to a few acres in an OHV park back East.
We did have a break down the second to the last day of our trip. I had to shift into 4wd low for awhile. When i went back to shift out of it, the shifter was free floating and would not put the transfer case back in 2wd. We limped back to the main road 15 miles away and drove another 25 miles on the road in 4wd low back to town. I found a mechanic who showed me a broken plastic bushing that holds the shifter cable on to the transfer case. Being 200 miles from any Jeep dealer (Salt Lake City or Las Vegas), he made a temp fix and showed me how to put the cable back on if it broke again.
It always more fun to go with friends and we wished some of the people from our club could of made the trip, but it's hard for a lot of people to take the time off, and for others it was too much to spend in today's bad economy. The trip cost us $355.00 in gas alone. Maybe when things improve we can have some people join us on our next Utah Expedition!!
Speaking of expeditions, our High Altitude Expedition... 2010 is rapidly approaching!! We leave Sep 3 for a weeks worth of exploring high up in the San Juan Mountains near Ouray and Silverton, CO. The San Juans are the youngest and most rugged part of the Rocky Mountains. This will be our 6th trip up there and we won't be alone. Beth's cousin is flying over from the UK to join us. He'll be driving my Jeep Liberty. My old Air Force roomie, who used to meet up with us when he lived in Colorado Springs, is driving up from Shreveport, LA in his Liberty to join us again. And, one of my friends from our Jeep club may make the trip in his newly modified SFA Liberty!!
I took over 700 pics on this expedition, here are a few taken along the trails. Most of them were taken sitting in the drivers seat to try and show what I saw while driving. I hope you enjoy them....
Day one, heading out into the wilderness on a 65 mile trail....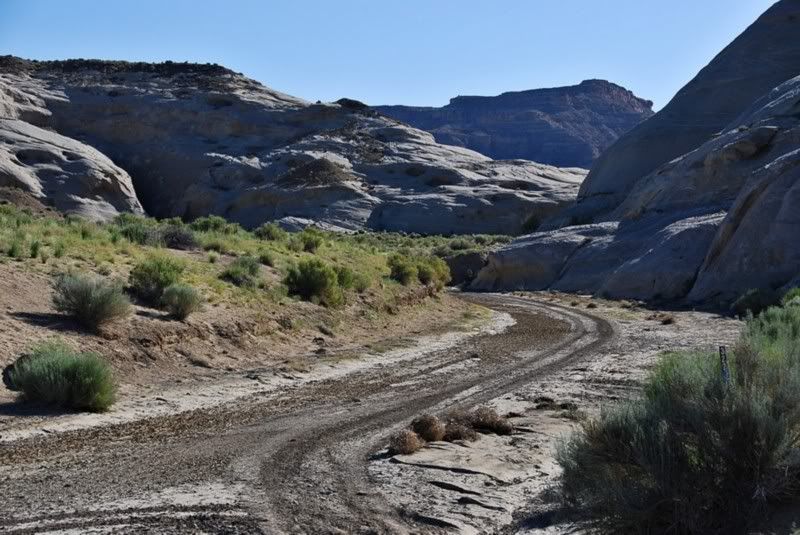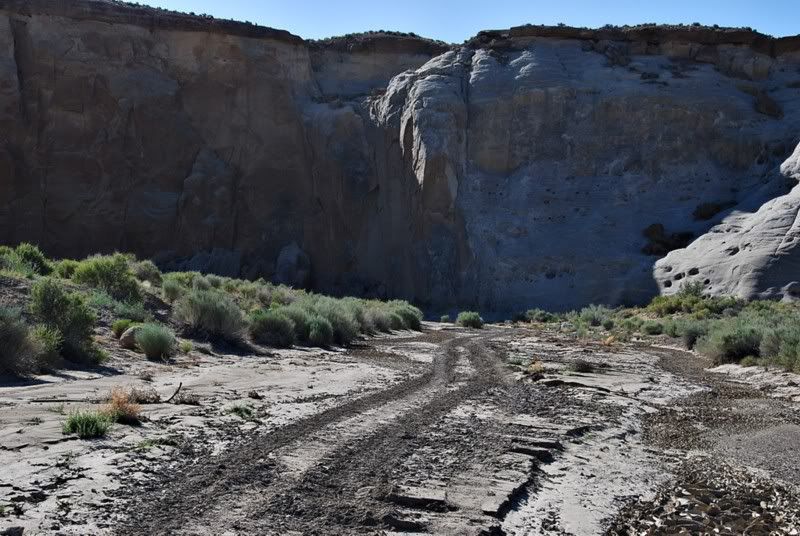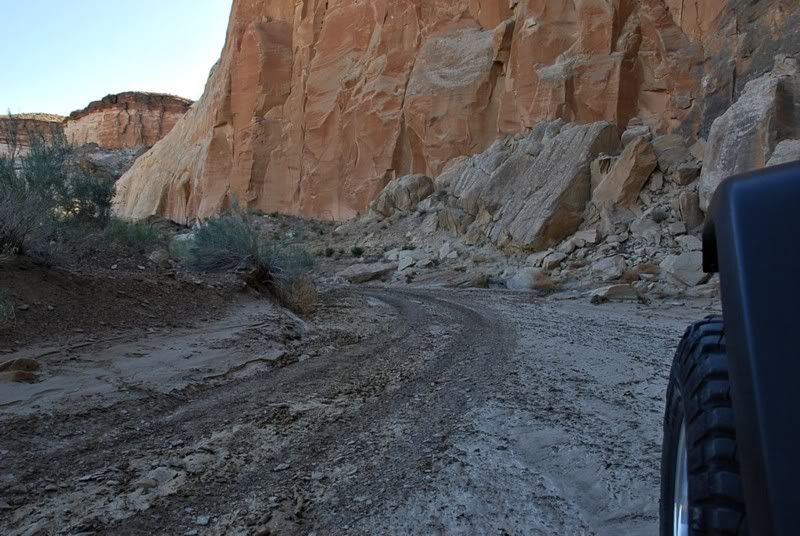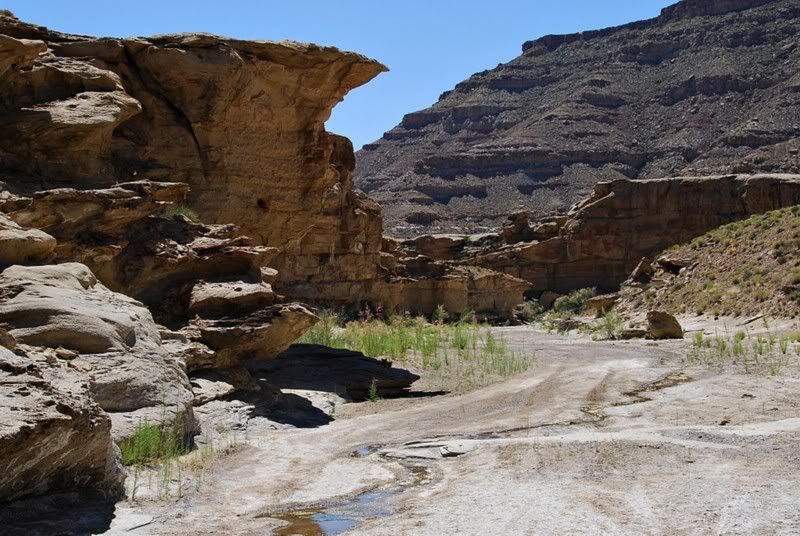 We're going to switchback our way 1,000 feet up this wall....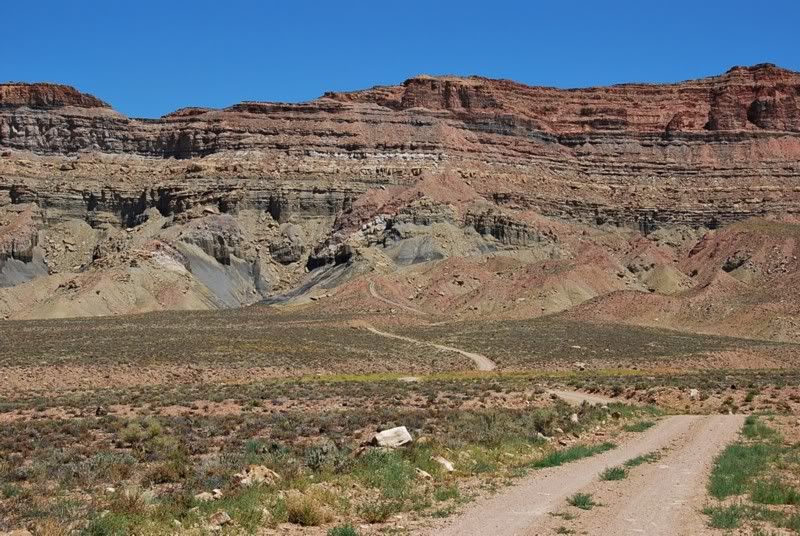 Looking back from where we just came (Lake Powell is off in the distance top center)....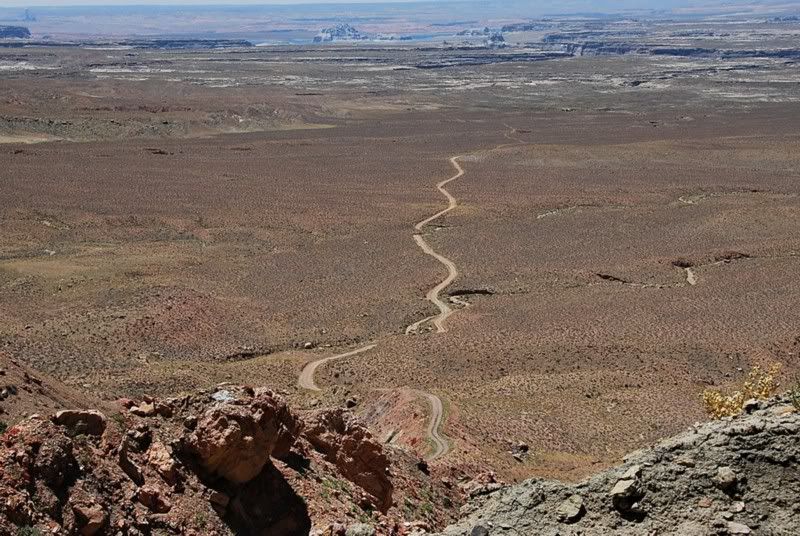 Looking off to the side, still climbing....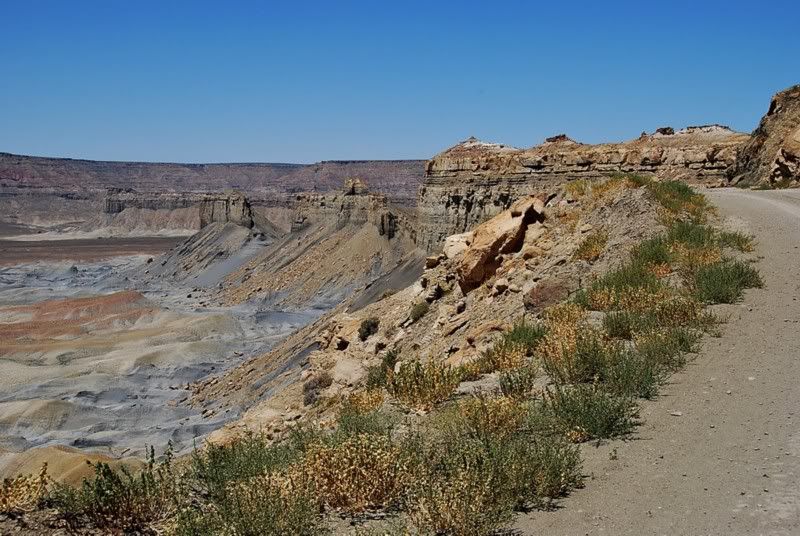 Almost to the top....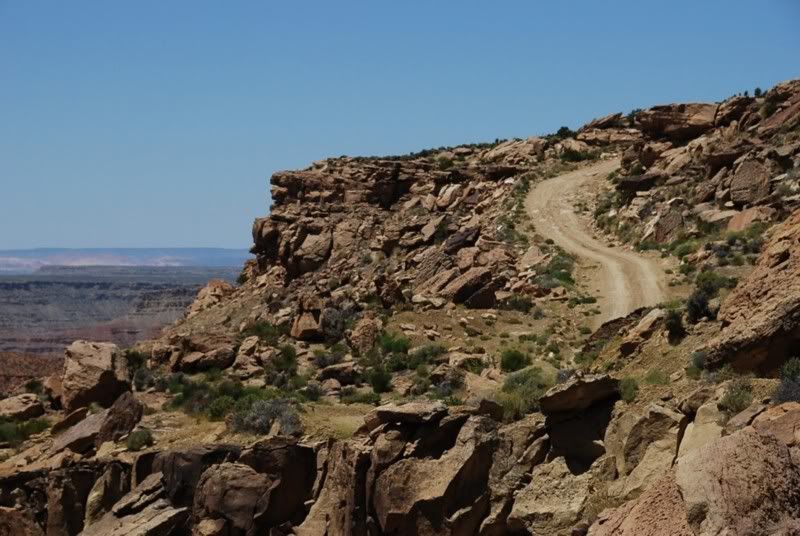 Made it!! Looking back over my left shoulder....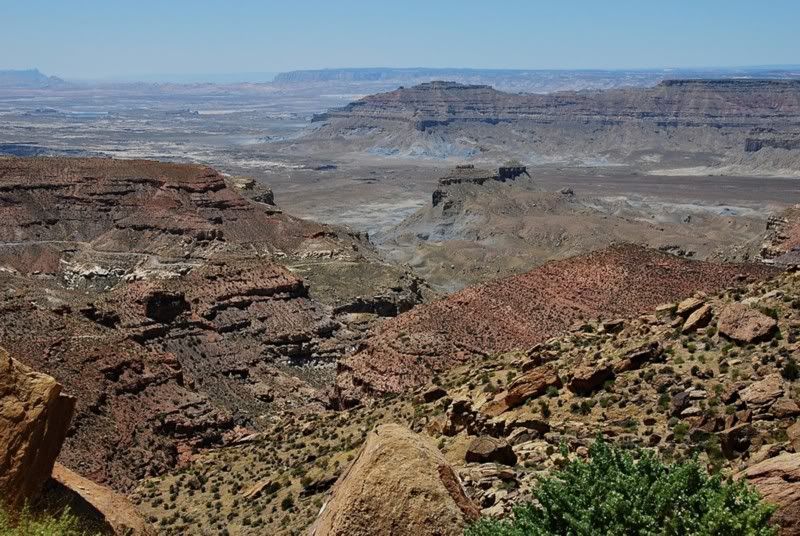 On the other side of the wall, a moonscape....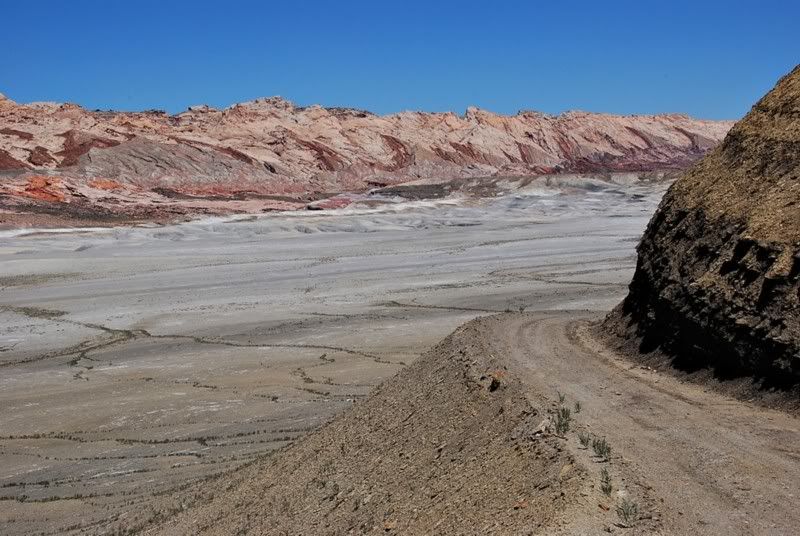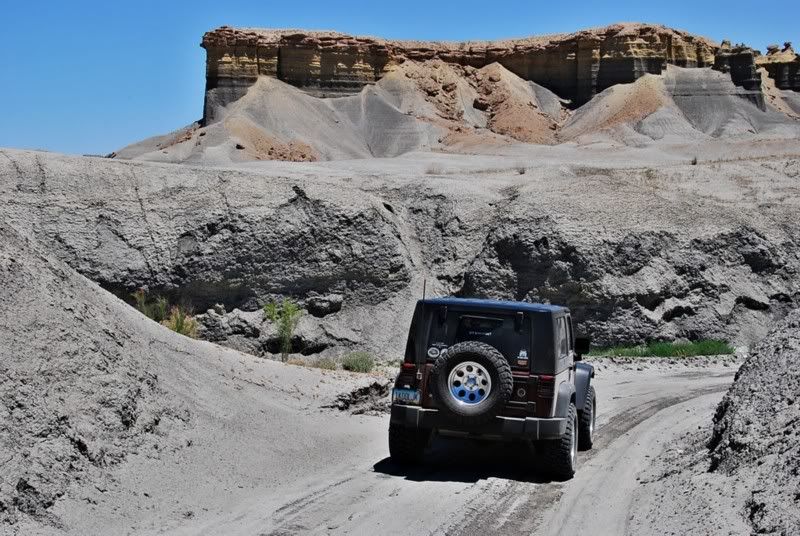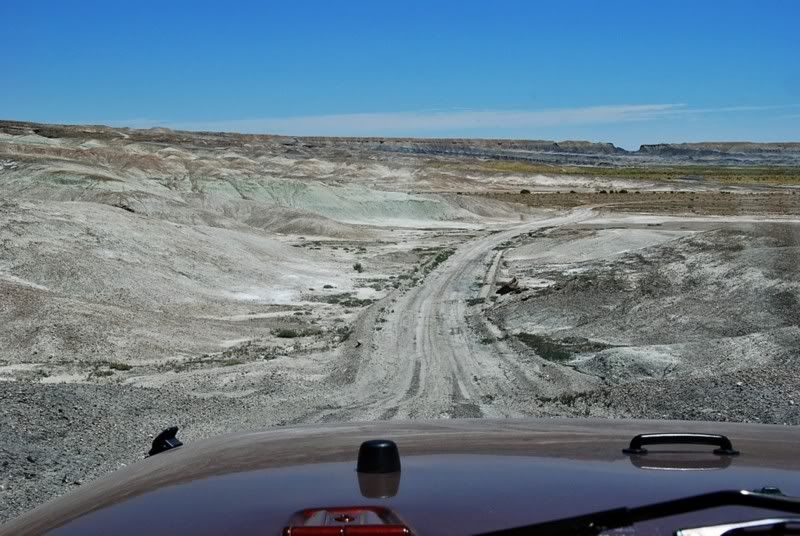 Leaving the moonscape behind us....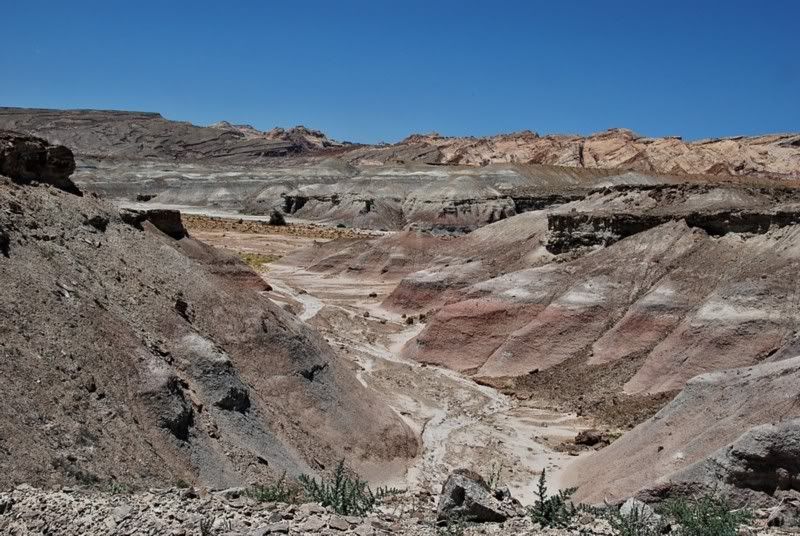 Muddy Creek on the Wild Horse Mesa Trail. The water was just over my rock rails, right at 22 inches. We made it across the rocky bottom and up the muddy bank on the other side (we almost turned around here, but I was confident the JK could make it up the bank in 4wd low)....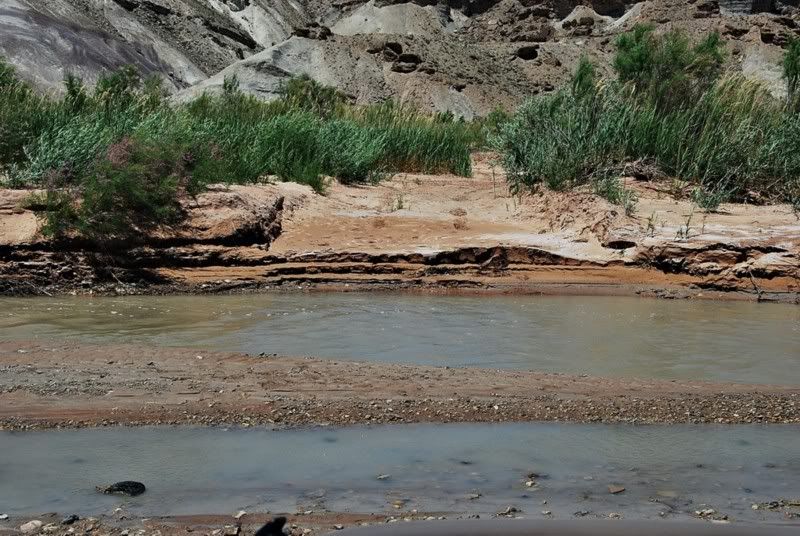 Looking back across Muddy Creek....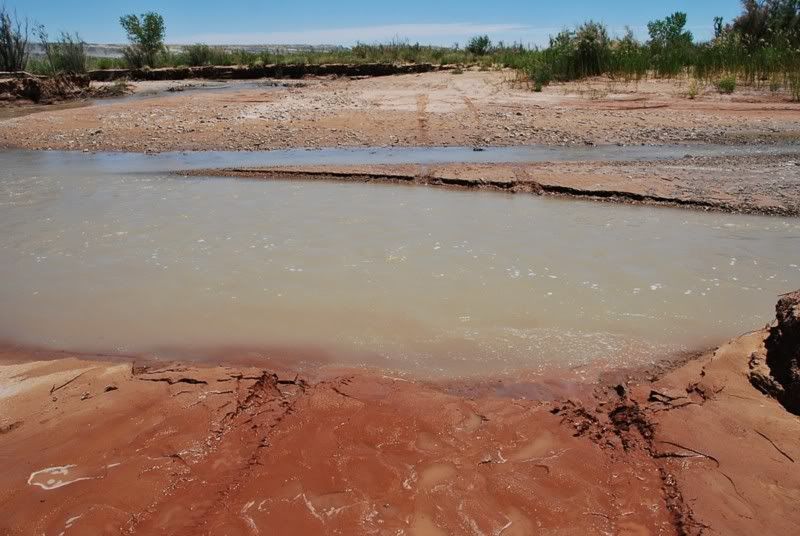 The trail got a little rough here....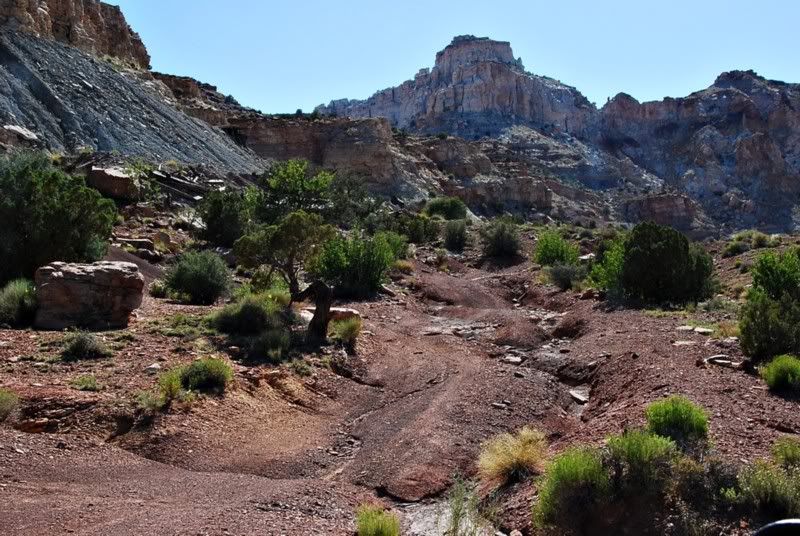 Going into a narrow canyon....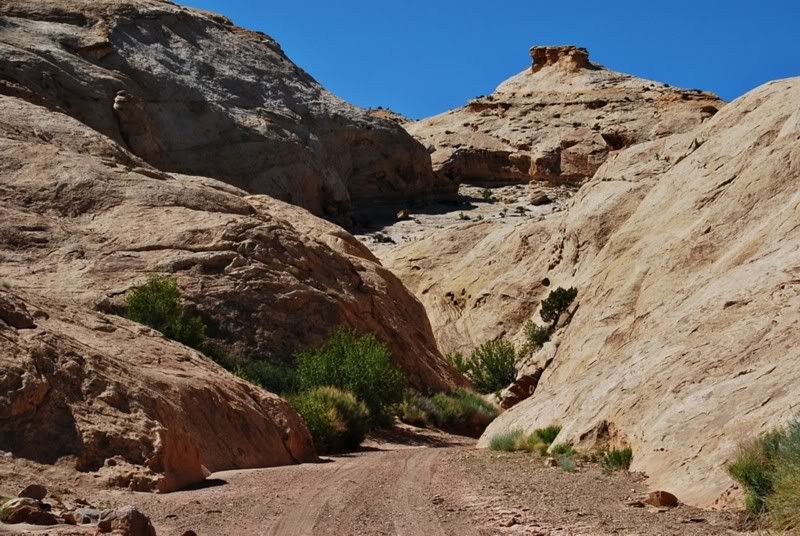 Another canyon....
Honey comb sand stone walls in the Grand Wash of Capitol Reef NP....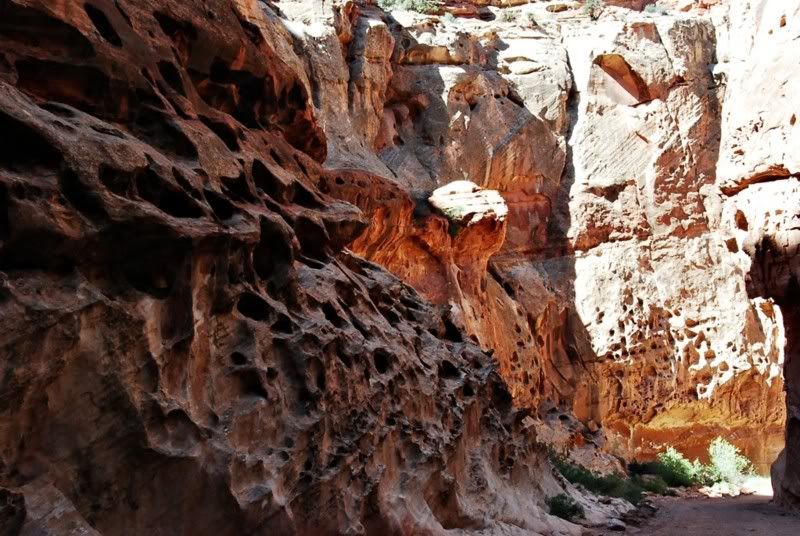 We traveled through many narrow canyons....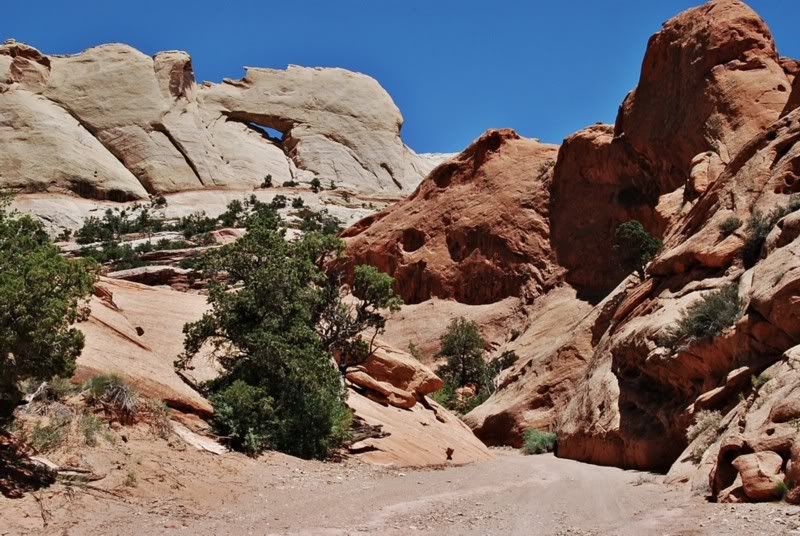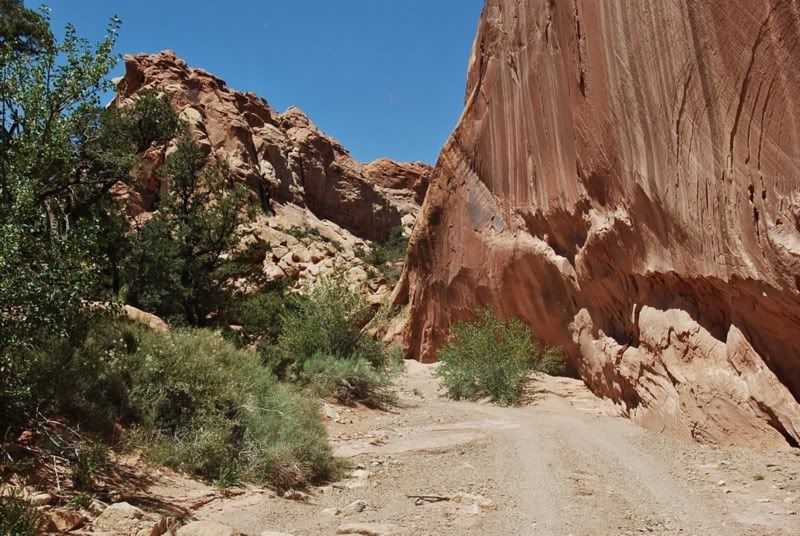 Almost to the end of this trail....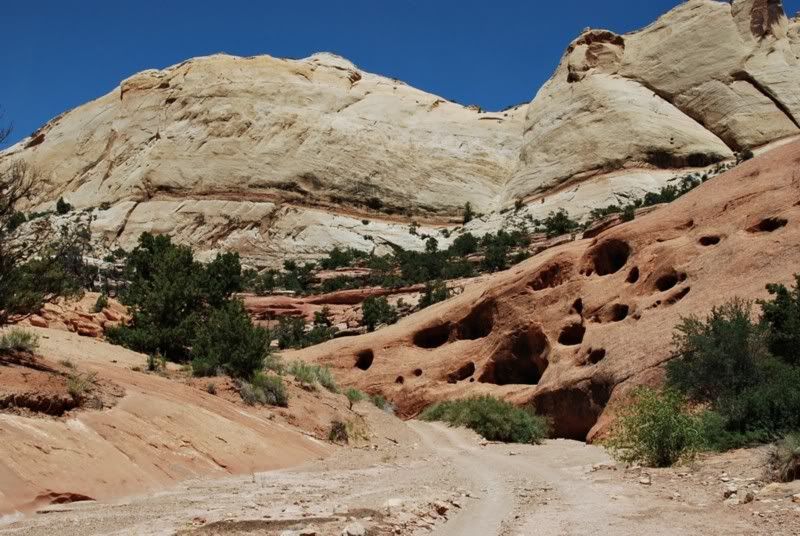 Back out on a washboard road 35 miles from the main highway....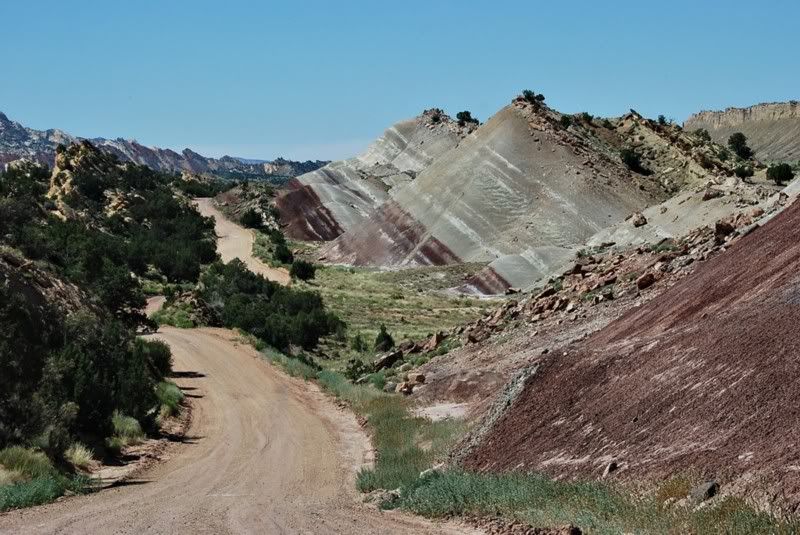 Coral Pink Sand Dunes SP, near Kanab, UT on the southwest side of the state. They were getting ready to close, so we didn't have time to ride the dunes....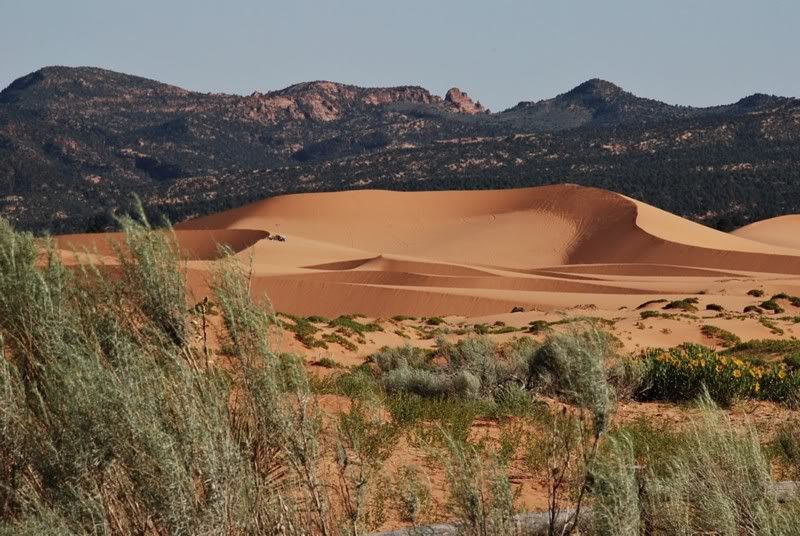 We did get to play on some hills the next morning....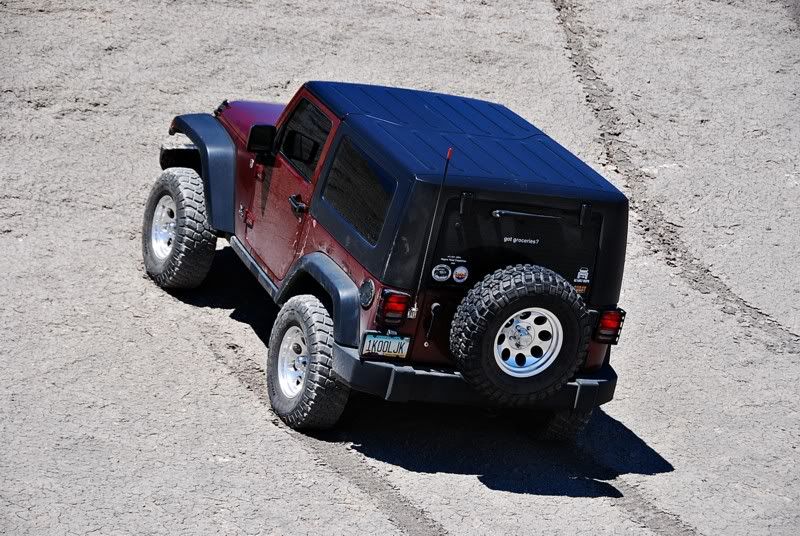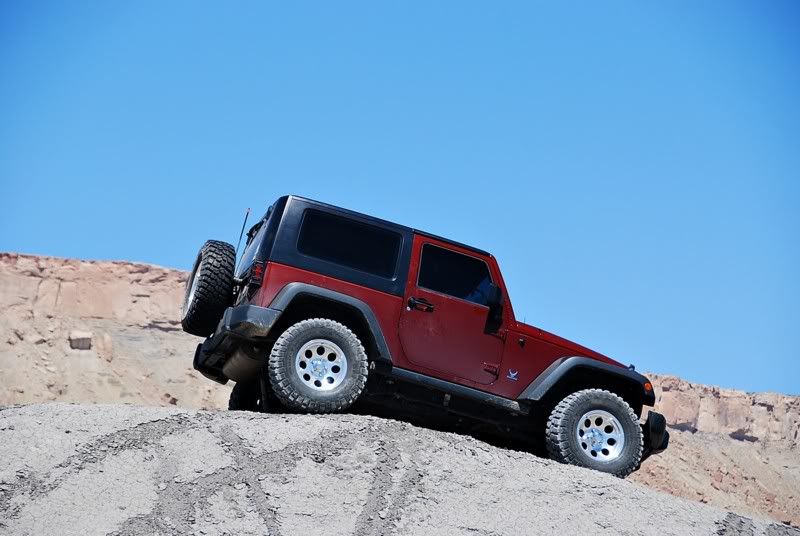 One of the hills in this OHV area....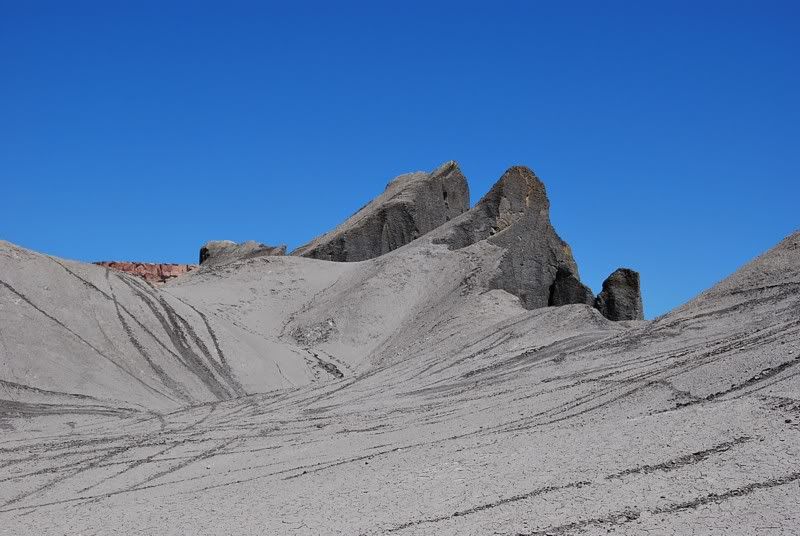 The End... hope you enjoyed the trip report and pictures!!